A sun protection test carried out by consumer watchdog Which? has revealed the leading sun cream brands that have
failed to meet two separate British Standards tests.
The sun creams manufactured by Piz Buin, Malibu and Hawaiian Tropic that claim to offer a sun protection factor of 30 were found to only have an SPF of 25. Which? has since labelled the creams 'don't buys'.

With temperatures hotting up across the country, it's a key time for many families to be slathering on the sun cream. And with so many brands to choose from - some costing upwards of £11 - it would be easy to think that going for a well-known brand in a higher price range would guarantee the best sun protection for your family.
But Piz Buin Ultra Light Dry Touch Sun Fluid SPF30, £11.30 per 100ml, was among those which failed, as well as Malibu Protective Lotion SPF30 200ml and Hawaiian Tropic Satin Protection SPF 30.
The products that consumer watch dog Which? labelled 'don't buys' in their recent testing
Surprisingly the cheapest product they tested, Calypso Sun Lotion SPF30 250ml, passed both British Standard tests - priced at just £1.20 per 100ml.
Executive Director for Which? Richard Lloyd told Sky News 'Consumers will be rightly worried that products of this kind that are meant to protect you from sunburn, with thousands and thousands of cases of people now getting skin cancer... aren't living up to the very strict British standards that we tested them against.

'The manufacturers now need to reassure the public that their products are good to use and in the meantime we recommend to people that they don't buy these three products.'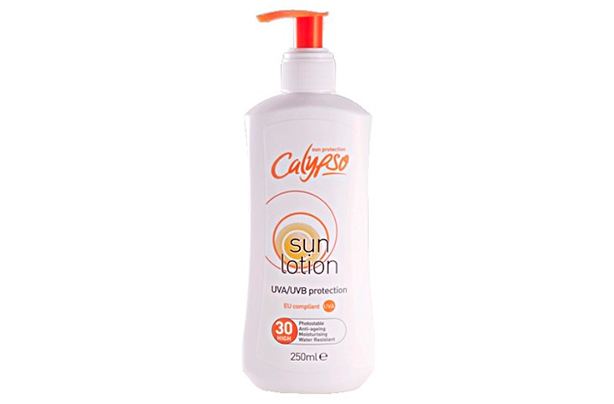 Calypso Sun Lotion SPF 30
was the cheapest sun cream to pass the consumer watch dog's tests, priced at £1.20 per 100ml (£2.99 for 250ml bottle from Home Bargains)
Which? released a table of all the products they tested and the results of which failed the spf test, which failed the UVA test, and which failed both: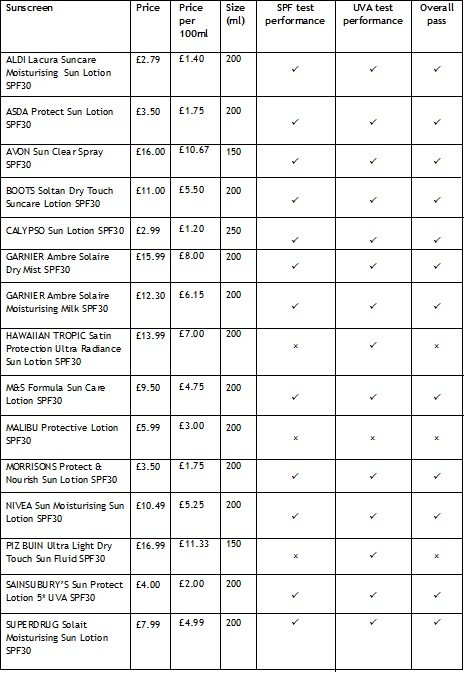 A statement released from Piz Buin explains that they have followed all the correct standards when it comes to testing their sun creams.
'Our products are subject to rigorous safety and efficacy testing; in the
case of sun care products, this includes SPF testing in line with the EU
sun care recommendation. Consumers can be confident that PIZ BUIN®
Ultra Light Dry Touch Sun Fluid SPF 30 provides effective sun protection
at SPF 30, when used as directed.'
What spf do I need?

You need to go for a sun cream with an spf of 15 or higher - the higher the better. Broad-spectrum sunscreens, which protect against UVA and UVB rays, are recommended.

How long does sun cream last?

Remember that sun cream has a shelf life and expires after two to three years

What's the difference between spf and star ratings?

Spf measure the amount of UVB the cream gives you, while UVA protection is measured with a star rating, going from 0 to 5 stars. As with spf, the higher the number of stars the higher the protection.

Does sun cream mean I can stay in the sun all day?

You shouldn't spend any longer in the sun with cream than you would without, if you can help it, it's just for when sun is unavoidable. Try to seek shade between 11am and 3pm, when the sun is its strongest.

Do I need to reapply my suncream? Even if it's waterproof?

Yes, even waterproof sun cream needs to be reapplied regularly. Most products stay on your skin for a couple of hours and after that, you should reapply. Always reapply immediately after being in the water.
* Shared from the Good to Know website, as thought everyone should know -
Read more at http://www.goodtoknow.co.uk/wellbeing/540713/1-20-sun-cream-beats-top-brands-to-give-the-best-sun-protection#xre5Tz6e6ORKrvmv.99